Spine Challenger 2018, Race report Wouter Huitzing
Coming back for more!
Proloog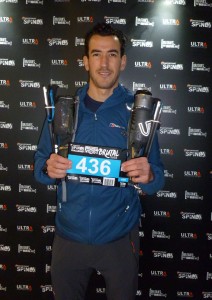 Only 20 minutes into the 2017 Spine Challenger I found out that most of my direct competitors have a support crew. I didn't know that was possible (I should have checked the rules better). I am a bit annoyed, but decide there is nothing I can do about it, and put it out of my head. It's my first ultra, and my goals are to finish and enjoy it! After 33 hours I finished in 4th place feeling great and knowing that I could have done much better if I just had put my mind to racing instead of finishing.
Over the year I keep thinking about the race and wonder if I could have taken 3rd, 2nd or even 1st place with a different mindset. I find out that at the 2018 race support crew are no longer allowed. Slowly the feeling starts to grow that I have some unfinished business with the Pennine Way.
2018, Saturday 13th of January, 8a.m.
It has been a year and again I find myself under the starting arch of the Spine Challenger. My gear is a kilo lighter; my ambition has gone up from finishing to winning; I have trained harder and I am stronger; I know what to expect, and I have brought enough batteries for my GPS (last year I was going to do it on map and compass and I only brought half charged batteries)! The weather forecast looks great for the first part as we should have the wind in our backs for most of the race and it should stay dry until Sunday evening.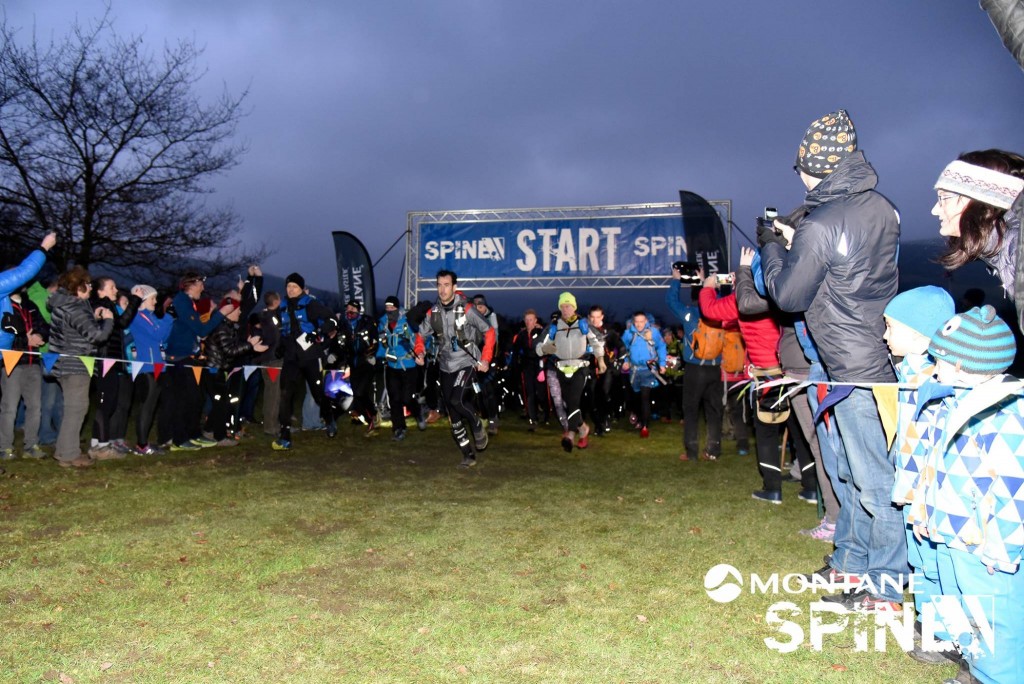 (Start of the Spine Challenger 2018, picture courtesy of the Spine Challenger organization)
The countdown starts and I completely relax, knowing there is nothing I can change anymore and there is only the race now to enjoy. 3, 2, 1, go! And I am off. I am the first leaving the field and first out on the road, what a familiar feeling. I slow down a bit expecting a leading group to form, but nothing happens. I take a look behind me and nobody shows a real interest in catching up. I run past the official Pennine Way start, and up in the fields towards Upper Booth. After passing Upper Booth the Pennine Way starts to go uphill and I slow down a bit more knowing that I have a long way to go and some company would be nice. Still nobody is catching up. Last year we had a group of ten by now. I wonder if I should slow to a walk or continue like this. I decide to keep my pace and start to climb Jacob's Ladder. I am setting a strong climbing pace and at the top I feel great and look back to see that I already opened up a small gap. I decide not to be bothered anymore by what everybody else is doing and I set off to Kinderlow and Kinder Downfalll. What a difference with 2017 when we had to plow through almost half meter of snow while going of track the whole time. This year there is no snow and the path is clear so I can set a good pace. Again I look behind me and there is nobody insight anymore. Bits of fog are setting in and it doesn't feel like I am racing. It's like I am out on a morning run by myself. After passing Kinder Downfall, the path bends sharp to the west and this time when looking back I catch a glimpse of a runner. I keep going uphill towards Mill Hill and bend towards the north, down over the slabs towards Snake Pass. The fog is gone and when I look behind me I see somebody getting closer and closer. I figure out this guy must be a real runner as he is making more and more speed on the slabs.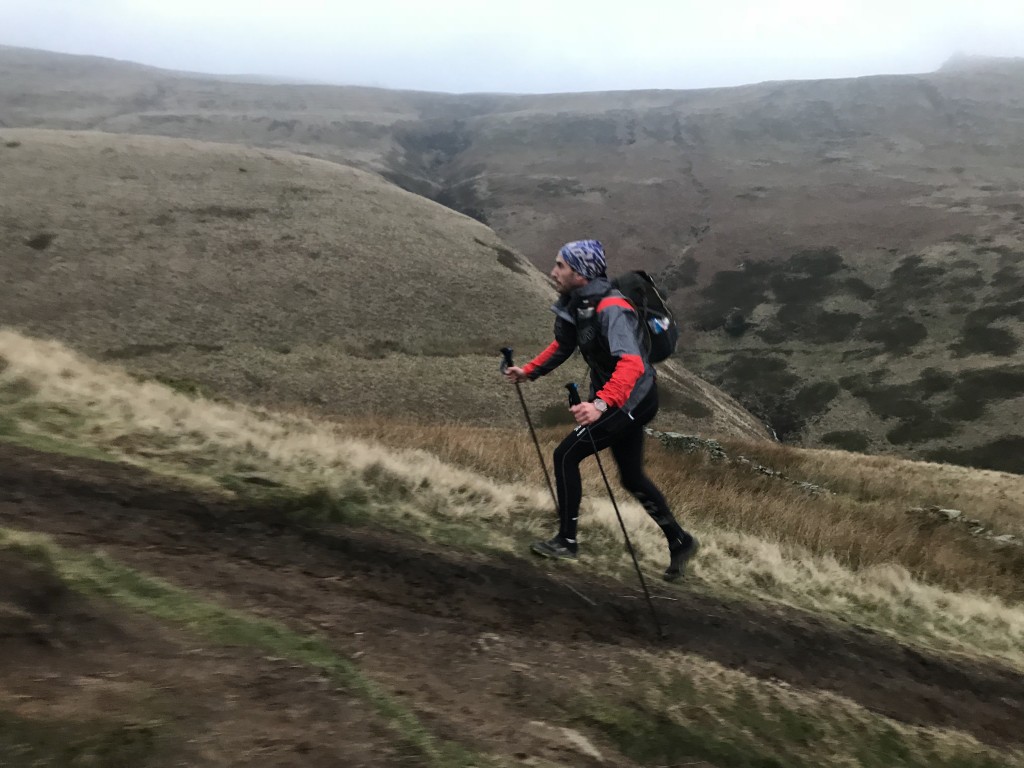 (Going up Jacob's Ladder, picture courtesy of Damian Hall)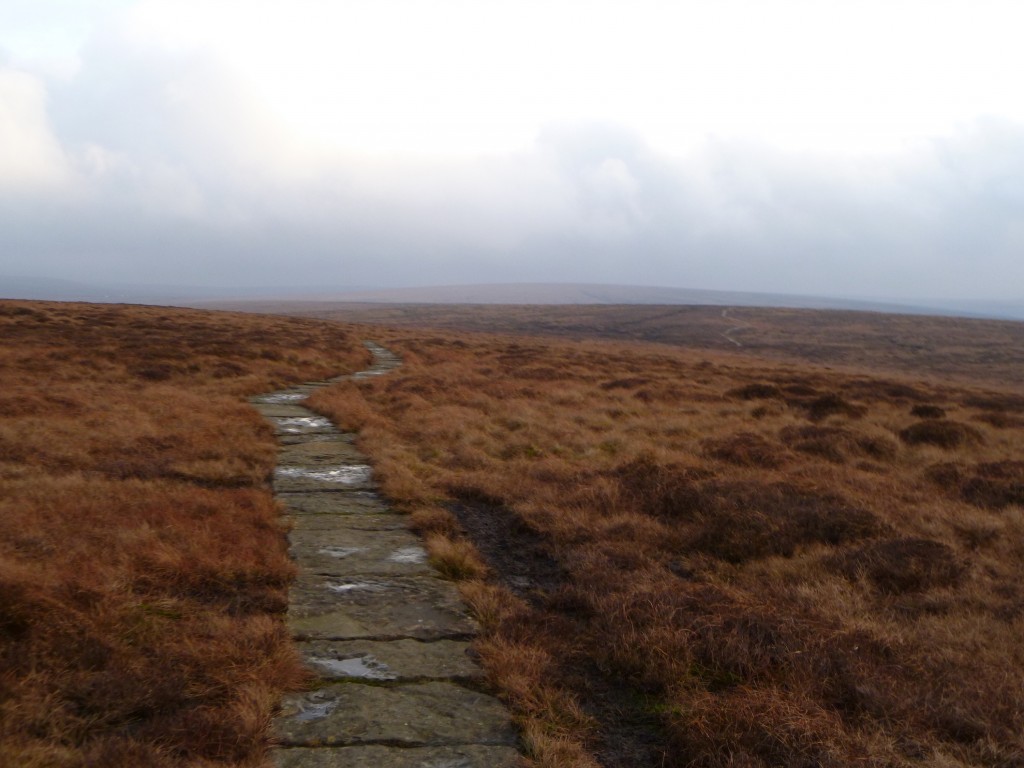 (Pennine way slabs)
When I get to Snake Pass, my friend Gary is there to cheer me on! It took me 1 hour and 48 minutes to get here, while last year it took me 2 hours and 14 minutes. This year the conditions are much better, or I am going way to fast. Going through the trenches at Bleaklow I see that I won't be long alone anymore. I need a toilet break and figure out it's better to have had my break before this guy overtakes me. When I get to the first deviation I decide to take my break. So far for running alone as I meet Simon Bourne. Together we take the deviation and my hope for keeping my shoes dry disappears completely. After passing the highest point at Bleaklow Head we turn west to descend towards Torside Reservoir. While going down both of us are speeding up. I ask Simon if it's his first Spine Challenger and what his goals are. He tells me that he lives close by and wanted to do the race this year as the rules have changed to being unsupported. He mentions his goal is to win the race and take a crack at the course record. I reply that it's also my goal to win the race. I check if Simon prefers to run alone, or likes the company. He replies that as long as we both run our own pace he likes to run together for a while. Going down towards Torside Reservoir we are more than 3 hours in the race so I need to eat something and I slow down a bit giving Simon a small lead. At this point last year I made a navigation error in the snow and ended up at the back of the pack. In the descent I noticed that I was quite good at descending and passed once again most of the runners. This year it's the same descend, but just me and Simon. After snacking I speed up and quickly pass Simon again to take a little lead myself.
At 10:53 I come down to Torside Reservoir to meet the Mountain Rescue for the first time. They fill up my water bottle and before Simon comes in, I am out again. I run over the dam. And at the other side I see that I once more have a small gap on Simon. I expect him sooner or later to catch up, but for now I am alone. I am going up Blackhill alone, but once I go down the other side Simon catches up again. Together we continue our way towards Wessenden Moor chatting a bit about racing, family and the great scenery. We are both running out of water, but I remember that last year there was a water post at Wessenden Head, so I am not concerned. The path is once again made of the famous Pennine Way stone slabs and we are making a speedy progress. I check my watch and notice that I am much faster than last year. We can already see the road where we need to cross, will chatting I stumble and fall to hit my knees on the slabs. I feel it's bleeding and for a moment I am limping and can't keep up with Simon. I need some moments to get myself together and to start running again. It doesn't feel too bad, but it isn't great either. Just before Wessenden Head we pass a stream and some photographers. I am sure there will be water at the road, so I don't fill up my bottle. However, when we pass the road at 12:35 there is no water point. We ask some bystanders, but there is nothing. Both Simon and me are out of water and need water soon to keep up this running pace.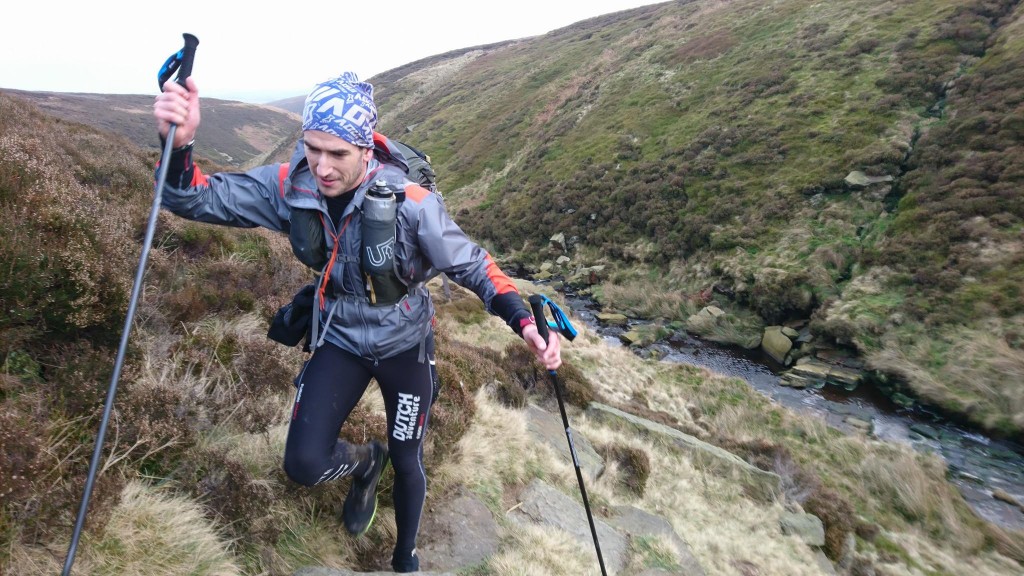 (Climb up to Wessenden Head, picture courtesy of the Spine Challenger organization)
Running down to Wessenden Reservoir we see water everywhere, but nothing really drinkable or easy to reach. From last year I remember that at the end we have to cross a small river, so I decide to go for that. At the river, while trying to fill his bottle Simon partly slips in the water and I get a chance to get away from him again. For more than half an hour I run on my own. I pass a Mountain Rescue support at Harrop, I fill up my bottle and I am able to keep my lead for a while. Near the M62 Simon finally catches up with me again. We pass the burger van, which is there for the Spiners, but we have no time to lose. After passing the M62 we meet Mike, a friend of Simon who is cheering us on. Simon gets energized and takes a small lead, which gets him first to White House.
(Running down to White House, picture courtesy of the Spine Challenger organization)
We get our bottles filled up at the Mountain Rescue and both of us take a cup of tea. I try to drink down mine as quickly as possible, but Simon as a real English gentleman takes his time for his tea. I run of again. This was the spot where I lost Dominick in 2017 and I am focused on not repeating that mistake. For some kilometers I am alone. At this point last year I had to take out my head torch, but now we have some hours left, which makes me wonder if we can get to the checkpoint at Hebden with daylight. There is a deviation at Warland which lets us go around the last reservoir. To me it seems that I will lose too much energy to run the moorland and I slow down to a quick walk. Simon disagrees with me and passes me with ease. In moments he is building a nice lead. I wonder if this is a mistake I will regret in the future. After the deviation I speed up again and I see Simon in the distance. While getting near to Stoodley Pike I also am getting closer to Simon once more, but I am never able to really catch up. I pass Charlestown in second place and try to catch Simon. Finally dusk is starting to set in and I need to get my head torch out. I am not the only one, as I see a light turn on in the fields before me. Luckily Simon didn't get away too much.
I come to the road that leads to the checkpoint (CP) and I meet multiple people cheering me on. At 17:19 I get in the CP just behind Simon. Simon took his shoes off and went completely inside, while I am staying in the front portal. There is a small discussion with the marshals if I am allowed to do that, but I say that I really want to keep my shoes on, as at the moment they feel fine on the way they are. They allow me to stay, as it was the same last year. I have put a list in my dropbag, which tells me what I need to do when I get to the CP. Step by step I work down my list and I get a hot meal from the organization. I mean really hot, the first 10 minutes I couldn't get a mouthful as it was too hot to eat. I am in a hurry as I told myself to stay in at the CP a maximum of 20 minutes. On the first part of the race I took a kilo of food and I have only 2 bars left. I take out a 1,2kilo bag of food for the second part. Back home it looked too much, but now I have the feeling I am going to eat most of it in the next 100 kilometers. I fill up my bottle of water, take out an extra GPS watch, change the batteries of my GPS and take an extra spare set of batteries just to be sure. The clock is ticking, but still my meal is really hot. I manage to eat several bites, but then Simon comes back out to put his shoes on again. I take a few last bites and manage to set of just before Simon is ready.
As I leave the CP Simon's friends and family mistake my light for his and they cheer me on, until they notice it's me. Just before Walshaw Reservoir Simon catches up again. At the road we are greeted by a cop car, and I wonder if somebody has complained about people running in the dark with head torches. But the officer is actually following the race and just wanted to great the front runners. Chatting again we pass Walshaw Reservoir and go up to Top Withins. My game plan for the whole race was not to run uphill. While going up towards Top Withins Simon keeps running and I slow down. Again I lose Simon and it starts to be a repeating pattern. I am not that concerned. While running around Ponden Reservoir I see a light at the end of the reservoir, and I know I am still close enough so nothing is decided yet. After the reservoir the Pennine Way goes steep up and just before the top I manage to catch Simon. At this point it's clear for me that Simon is the stronger runner, but I am the stronger climber. Just before the start of the climb a photographer informed me that number 3, Ian, is catching up with us, and I get a bit concerned. Luckily just a little later we get confirmation that, it isn't true. Ian is actually more than 6 kilometers behind us, so as long as we can keep up our pace we should be fine. As Simon and I are pushing each other hard I don't really think that keeping this pace will be a problem.
On Ickornshaw my intestines start to rumble and I need a toilet stop. I have been eating more than a kilo of snacks and sugar so I am not really surprised this is happening. So once again I need to let Simon go. For a long time I am running on my own. Into Cowling we have another deviation, as I am following the GPS this year, I am a bit confused as I don't remember this part of the race. Going into Cowling I decide I need some normal food and take out a wrap with lettuce, avocado, cheese and corn, which I made for such a moment. In Cowling some people are cheering me on. They have their IPad out and offer to fill my water bottle. They inform that Simon is just a minute before me and show me that number 3 is quite a bit behind us. In Cowling I turn my head torch off to save some battery and I manage to sneak up on Simon. For some time we run together again. When we pass a house with an outdoor tap we fill up our bottles. Compared to last year I have to search a lot more for water and wonder if I shouldn't fill up an extra bottle next time, but that means more weight. As we get down to Lothersdale we hear cheering and it seems that the local pub is full of Spine followers. When we pass there is a party on the street. Like last year there is a big pile of water bottles outside, only last year it was completely quiet. Our bottles are almost completely full, but I don't pass a chance on water so I make sure that I drink half my bottle and quickly fill up again.
Towards Thorton in Craven we have some fields to cross and some more hills to climb, but after Thorton we are hitting the channels. This was the point I feared. Simon as the stronger runner is putting down a strong pace on the flats. I tell myself I need to keep up as otherwise I will lose him for good. Several times I slow down to a walk, but as Simon gets away, I speed up to catch him. I keep telling myself I need to stay with Simon, so I can try to lose him in the hills in the last 40km. Again we come to a deviation which favors Simon as it's on flat road. But luckily for me I notice some cracks in his pace as even he sometimes slows down for a short walk.  At 00:27 we enter Gargrave.
After Gargrave we need to traverse several fields again. Last year they were full of slushy wet mud, this time they are okay, but plowed over by sheep legs and a bit annoying to walk. I still have nightmares from the 2017 gates, when you had to stand in ankle deep, half freezing muddy water to open and close the gates. I start to feel strong again and know I can keep up with Simon until Malham Cove. At the Cove, the climbing will start again and I will be able to set the pace. At Airton there is another deviation which puts us on the tarmac again, but Simon definitely isn't as strong as he was before. We pass Airton and have a quick look around for a tap, as once more we are out of water. There is nothing to be found, so we continue back into the fields. From last year I know these are the last kilometers in the muddy fields, as from Malham it's all hard packed ground to run on. Simon gets a bit desperate for water and tells me he is going to fill up at a small stream. The stream doesn't appeal to me, so I continue. I move into Malham hoping there is a tap or anything. However as I leave Malham behind, I still don't have any water. I see Simon a bit behind me and I actually slow down to a walk to let him catch up. After some walking I noticed that he hasn't cached up yet, as he slowed down to a walk. I come to a fast flowing stream coming down from Malham Cove and decided that it should be good enough to drink. I fill my bottle and still Simon isn't there. I decide this is it, I am going for it. I speed up towards the steps out of Malham Cove and set a strong climbing pace. Almost at the top I look over my shoulder to see a light at the bottom just starting the climb. When I reach the top I speed up to make a big as possible gap as fast as possible. Hoping this way to discourage Simon to try and catch up again. Every couple of minutes I look behind, but it's pitch black behind me. There is no light to be seen, so I guess I made the right decision at the right point. When I close on CP1,5, while moving around Malham Tarn, I see a light far behind me. It inspires me to speed up once more. At 02:14 I get into CP1,5 where I drain 2 cups of tea, make sure to fill up both of my bottles this time and prepare an adventure food meal. In minutes I jog out, without having seen Simon. 50meters out of the CP I curse as I forgot my poles. Turning around I expect Simon to show up and skip the CP to take back the lead. I grab my poles and still there's nobody there (after the race I heard he came into the CP 2 minutes after I had left).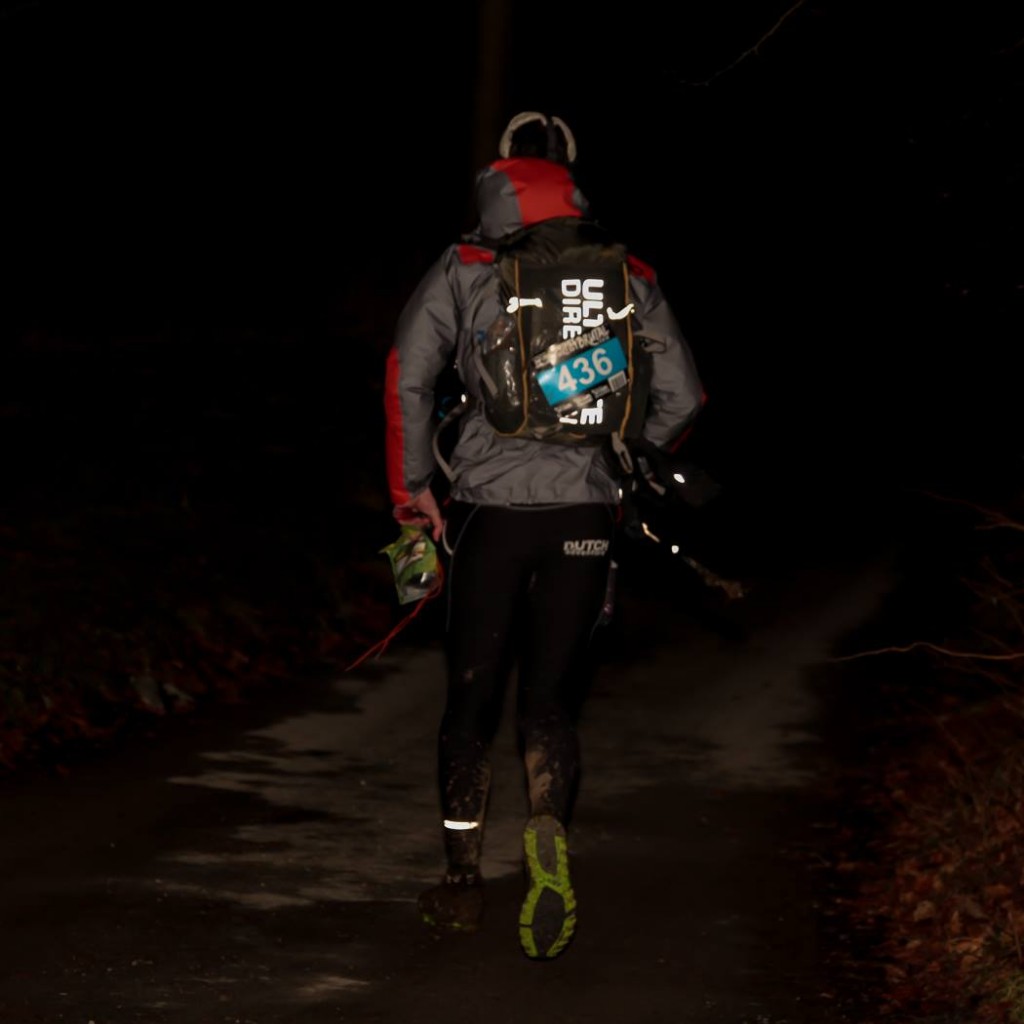 (Leaving CP1.5 Malham Tarn, picture courtesy of John Bamber)
From last year I know I could still run the first part before going up to Fountains Fell, so I run with poles in on hand, and my rice meal in the other. When the terrain starts to go up again I finally take my time to eat. The eating is tough and after half a meal I decide to stow it away for latter and grab some sweets. I keep setting a fast pace knowing that this is my best chance to win the race. Every once in a while I look behind, and just as before there is no light to be seen. My guess is I am increasing my lead, but I still keep pushing hard. I move over Fountains Fell and while going down the other side I notice some snow and ice on the ground. I can't decide if I should run down taking a chance on a wrong step or slow down and move steadily down. I go down as fast as I dare. Once I get to the road I start running once more towards the base of Pen-Y-Ghent. Still there is no light behind me. As I start the climb towards the top of Pen-Y-Ghent I finally see a light. However it's hard to make out how far away it is and how fast it's moving. My guess it's Simon coming down from Fountains Fell, giving me at least a 20 minutes lead. But it could as easily be something else, or it could be Simon who is closer than I think. Near the summit of Pen-Y-Ghent the fog starts to set in and the wind seems to be picking up. Last year I was here in the morning, with the summit and the paths full of people. This year it's in the middle of the night and I am completely alone and cold. With the fog and darkness I am fully focused on the GPS to make sure I stay on the path. I seem to remember a hard, slippery downhill, but I find a nice set of steps (newly installed?) going down. I run down to Horton in Ribblesdale and as the road has the shape of a big U more or less expect to see Simon's light at the other side at some point. But as I move around the last corner to Horton I still haven't seen any sign of being chased. I keep thinking that I might really am going to win this race.
At Horton I see some members of the Mountain Rescue who note down my number and I speed off to take down the last 20+ kilometers. At this point last year I was relaxing, figuring out that the race was more or less run. I was enjoying the scenery and my food. This year I have a voice in the back of my head saying that Simon can show up and take the lead every minute so I need to push on. From here it's a broad gravel road so I am a bit nervous that Simon has put his torch off and is sneaking up on me. Every minute or so I look back. The first 10 kilometers go fast, but when I hit the Cam road everything seems to slow down. According to my watch my pace is still the same, but I get nervous and I just want to finish. While dawn slowly approaches, I meet some of the photographers. I don't ask them where Simon is, as I don't really want to know if he is close or far away. I need to keep going that's all there is to do. The last deviation is a bit of a disappointment. I had hoped to have a nice jog down, but the road is completely trashed and full of big blocks which can easily make you twist your ankle. I move into Hawes knowing it's just a few more kilometers. At this point I know I have this race in the pocket, but when, out of habit I look behind I see somebody in a blue jacket.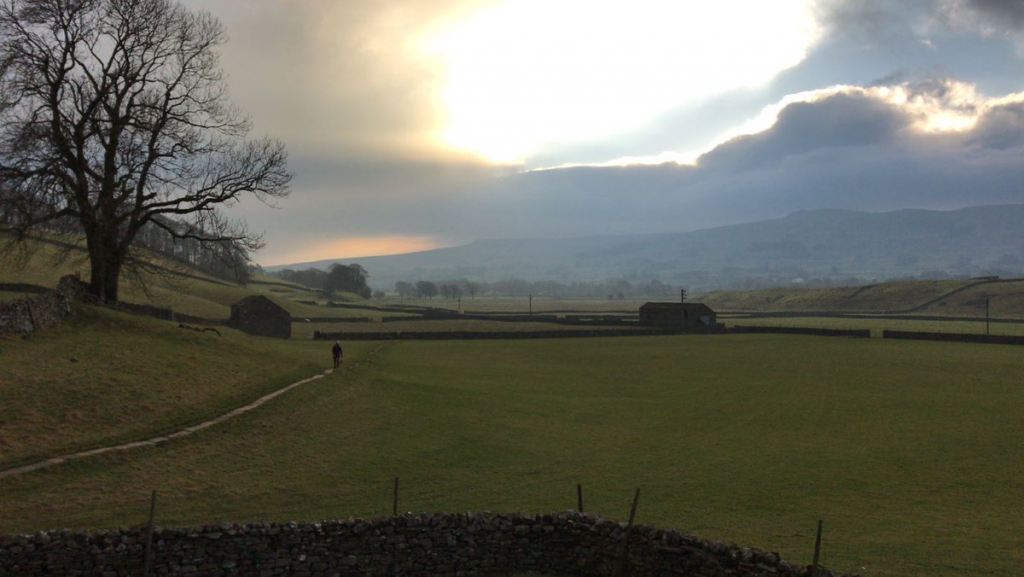 (Last 500 meter, 09:40a.m. Sunday the 14th, picture courtesy of Spine Challenger organization)
Fortunately for me it's a guy who just woke up and is walking his dog. I would be gutted if Simon would catch up with me now so close to the finish, especially as I am just passing last year's finish. They added a few kilometers to the race this year to finish in Hardaw. The plus side to this extension is that they promised a bed and shower at the finish, which I am both looking forward to. The downside is that there is still a little bit to go. I pass the Haylands Bridge and move through one of the last gates. I am walking the last kilometer when I hear some buzzing near my head. It's a drone filming my finish. Of course I start to run again (can't be filmed walking). At the end of the field are some spectators cheering me on.  Near the road I meet Scott who congratulates me on my win. He tells me that it's just 150 more meters, so I start to sprint and finish the Spine Challenger with a new course record in 25 hours, 42 minutes and 21 seconds.
I owe a lot of thank to Berghaus, INOV8, Ultimate Direction, Compressport and Black Diamond for their support and believing that I could win this amazing race. Without their support and equipment my backpack would have been much heavier and I would have been far less comfortable. Thank you all a lot!
4,163 totaal aantal vertoningen, 1 aantal vertoningen vandaag

by

Reacties:
Reacties