Wout van Hoof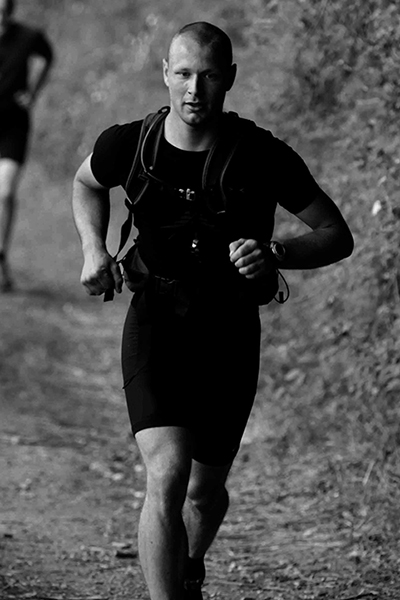 Naam:
Wout van Hoof

Geboortedatum:
03-10-1981
Werk:
Boekhouder / kok

Woonplaats:
Puy Saint Vincent, Frankrijk

Wanneer begonnen met AR:
2004 Battle of the SAC's

Favoriete AR onderdeel:
Hiken / Bergsport

Mooiste AR ervaring:
De mooiste herinneringen heb ik aan de lange races waaraan ik heb deelgenomen. Vooral AR Costa Rica, een race waaraan ik met o.a. Wodi meedeed, was als totaalbeleving een hoogtepunt. Een hele lange race door een prachtig land.
Mijn mooiste AR moment is de herleving die we als team tijdens de Lycian Challenge (Turkije) hadden. Na 2 dagen racen waren we allemaal moe en een beetje uit ons humeur. Door er als team de schouders onder te zetten, een goed plan te maken, elkaar te motiveren, goed te eten en te drinken kwamen we allemaal weer in onze kracht. Die opleving is een mooi AR moment en misschien wel een mooie levensles;-).
Slechtste of opmerkelijkste AR ervaring:
De slechtste ervaringen zijn altijd hevig op het moment. Die momenten waarop je zelf absoluut niet begrijpt waarom je steeds weer aan zo'n nieuwe race begint. Achteraf dragen deze momenten alleen maar bij aan de beleving.
Ik herinner me een Mountainbike etappe in de RAID in FRANCE waarin we 128 km moesten afleggen. Deze etappe heeft ons bijna 30 uur gekost. Dat is dus gemiddeld iets meer dan 4 km/u. Iedere klim moest de fiets omhoog geduwd of gedragen worden. De paden waren gewoon te steil (of wij waren niet fit genoeg). Na 30 uur ben je dat zat…
Wedstrijd resultaten:
2014:
DNF EK AR Lycian Challenge (Turkije)
2e Embrun Raid (Frankrijk)
2e AR Bronckhorst
2013:
41e WK AR Costa Rica
5e NK AR Harz
4e Veluwe Classic
2012:
3e bear Trophy
2e Auenland AR
Waarom AR:
Een combinatie van sporten die ik erg leuk vind op de mooiste plekjes van de wereld en met goed gezelschap. Een wedstrijd is iedere keer weer een complexe uitdaging, die nooit met een standaard strategie aangepakt kan worden. Het gaat om zoveel meer dan alleen fysieke fitheid. Het vraagt om teamwork, tactiek, verstand, zelfkennis, medeleven, etc. Als het je dan als team lukt om het maximale uit een race te halen omdat je op al deze vlakken ieders kwaliteiten goed hebt benut, dan geeft dat erg veel voldoening.
ENGLISH
Name:
Wout van Hoof

Date of birth:
03-10-1981
Occupation:
Administrator, cook
Started AR:
2004, Battle of the SAC's
Favorite AR Discipline:
Trekking / Mountaineering

Favorite race or most beautiful AR experience:
My best memories are of the expedition races in which I competed. AR Costa Rica, a race I did with Wodi, was my best total experience. A very long course through a beautiful country.
The best AR moment would be the revival we had as a team during the EC AR Lycian Challenge in Turkey. After two days of strenuous racing and with little sleep, we were not racing strong. Every person in the team was struggling with his own demons, tiredness, weariness, pain and discomfort. At the next transition area we made a plan, we motivated each other, drank and ate well and put our minds to it. As a team we regained our strength. This moment was, to me, a good lesson in adventure racing and maybe a good lesson for life;-)
Worst or remarkable AR experience:
The bad experiences are always heavy at the moment. Those moment you don't recall why you even started the race. Looking back, those moment only contribute to the beauty of this sport.
I remember a mountain bike stage in the RAID in FRANCE in which we had to bike 128 km. It took us a bit less than 30 hours, meaning an average of just above 4 km/h!! We had to push our carry our bikes up every climb we encountered. The trails were just too steep (or maybe we weren't fit enough). After 30 hours you're really done with it…
Race results:
2014:
DNF EK AR Lycian Challenge (Turkije)
2e Embrun Raid (Frankrijk)
2e AR Bronckhorst
2013:
41e WK AR Costa Rica
5e NK AR Harz
4e Veluwe Classic
2012:
3e bear Trophy
2e Auenland AR
Why AR:
A combination of sports I love in the most beautiful places on earth in very good company. Every race brings a new and complex challenge, there is never a standard approach. It about so much more than just physical fitness. It's about teamwork, tactics, wit, self-knowledge, compassion, etc. If you succeed as a team to perform well combining all of the different qualities in your team, this gives great satisfaction.
2,842 totaal aantal vertoningen, 2 aantal vertoningen vandaag
Reacties:
Reacties